Landis Elementary Title I Community Fair October 10, 2019 10:00 am - 6:30 pm. Looking for businesses and organizations to participate and share their information with the Landis Elementary Families! Please contact Landis if you are interested.

Are you a business searching for ways to share information about what you do? Check out this free event happening at Landis Elementary!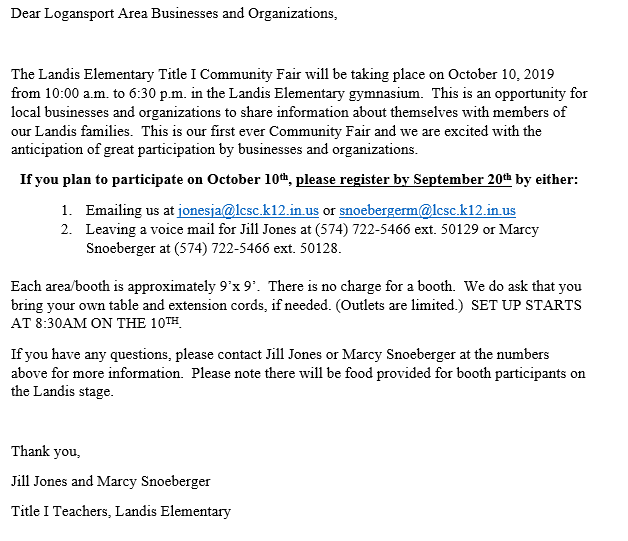 Chinese teacher, Chunmei Guan, shared this photo of her class from this week! They have been working on writing Chinese characters with brushes&working with chopsticks. If you attended the LHS open house&stopped by her classroom, you probably got to show off your chopstick skills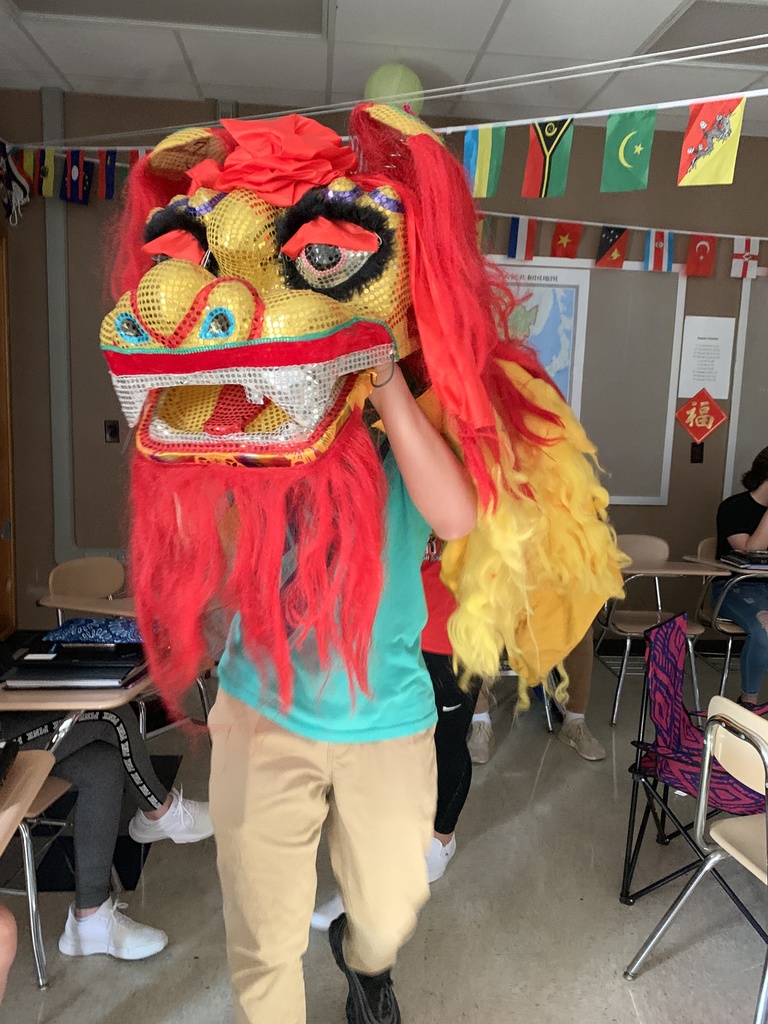 #FactFriday did you know you can find all the bus schedules on our website? Visit lcsc.k12.in.us and click Explore, select the "For Parents" tab and choose bus schedules.

The first day of school is almost here! Don't forget, you can find 2019/2020 Supply Lists by visiting
www.lcsc.k12.in.us
and choosing your students school from the "sites" tab.


As you are preparing for the upcoming school year, please remember there has been a change in the start and end times for the 2019-2020 school year. The official press release includes information about the time changes and lists the start and end time for each building.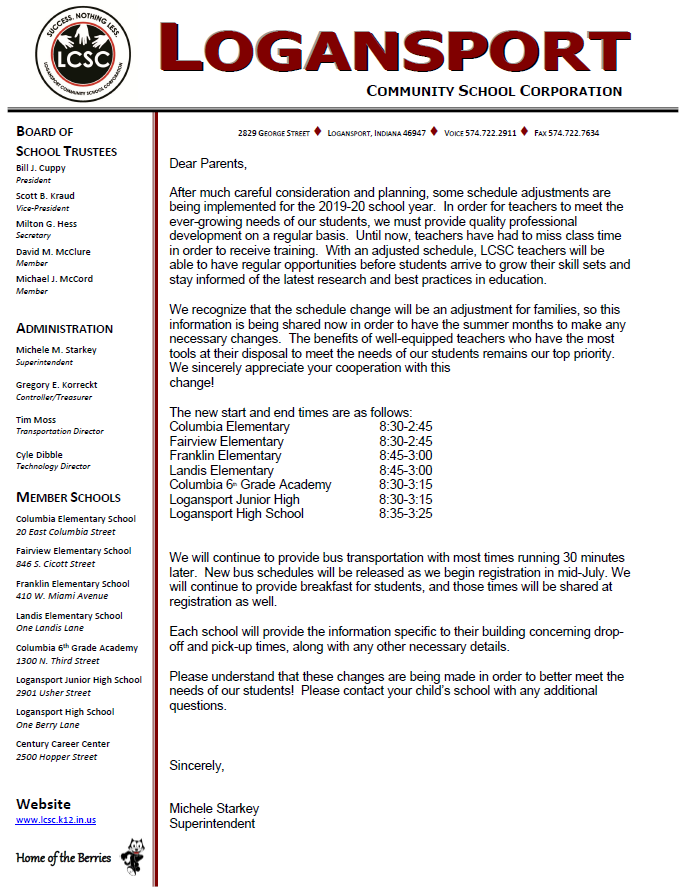 Online Registration for LCSC returning students is now open! Please visit
https://bit.ly/2Y3A2Sl
for instructions how to register returning students.

Columbia 6th Grade Academy School Kick-off 8:30-11:45 at C6GA July 31 for Explorers and August 2 for Voyagers

BK Registration at Fairview Elementary is Tuesday, Wednesday and Thursday from 8:00-4:00 this week. You child must be 4 by August 1. You must go to Fairview to enroll your child.

Save time and register online! Registration for the 2019-20 school year at Logansport Community School Corp. will open on July 16.

We are one month away from welcoming back all of our wonderful students! The first student day for the 2019-2020 school year is Wednesday, August 7!

Happy 4th of July! Wishing all of our students, staff, and community members a safe and enjoyable holiday! What is your favorite 4th of July tradition?

Are you searching for a new career opportunity? Join our team! LCSC has several classified and certified positions available. To view a list of all open positions and to submit an application, visit
https://bit.ly/2UlXHaJ

The June 30 deadline to apply for the 21st Century Scholars program is quickly approaching! If you have a student who is a 7th or 8th grader, you are eligible to apply. 21st Century Scholars provides tuition assistance for eligible students. Learn more:
https://scholars.in.gov/

Wonderful job to our Reboot team for hosting an outstanding first Reboot- Summer of eLearning Conference today!

Good luck to boys golf today as they compete for the regional title!

On June 19, Food Finders will have their Mobile Pantry at Revolution Community Church for those in need. Please see the flyer for more information!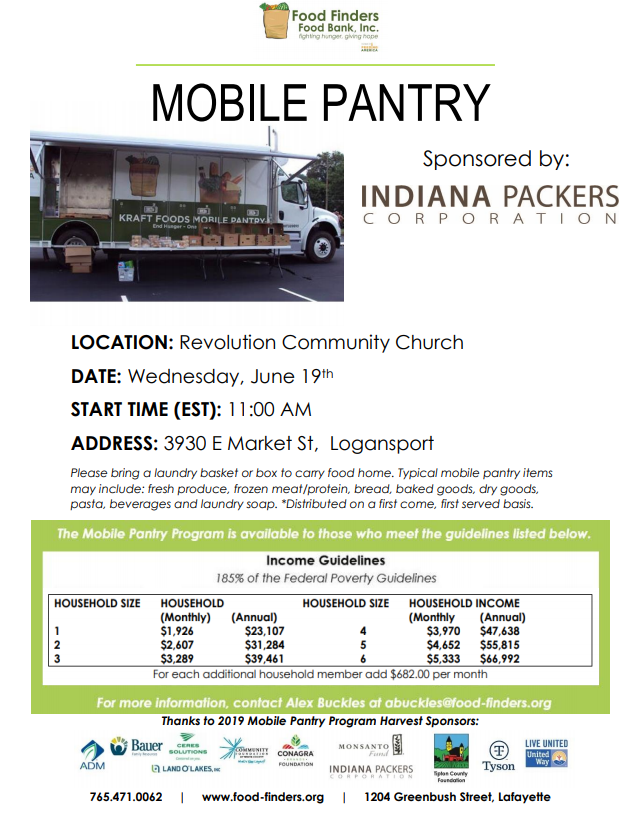 Carter Davis & Patti Davis Knapp are Fairview Alumni. In memory of their late mother who was a teacher, they created a special teacher award at Fairview Elem. This year, 3rd grade teacher Ashli Scott was awarded! Ashli received a plaque & $500 that's not to be spent on school!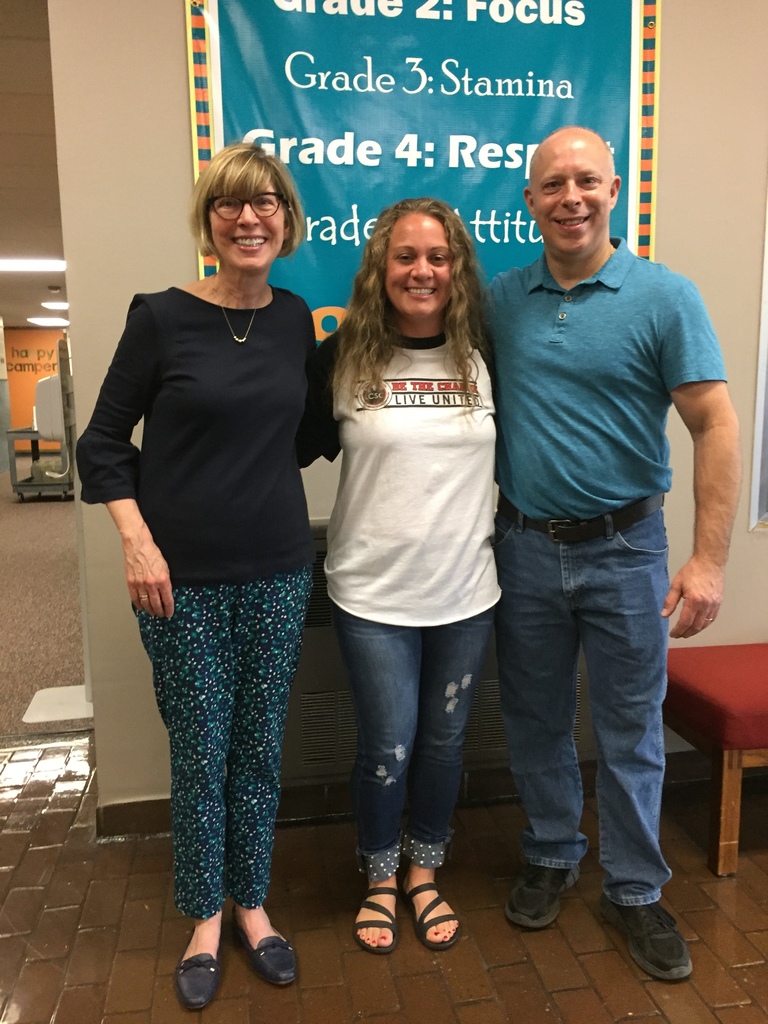 For the 2019-2020 school year, there have been schedule adjustments made. Letters were sent home with students this week, and information regarding these changes has also been uploaded to our website under the "News" section and shared via our social media.